L-Guide™ - Enrich Any PC Desktop
L-Guide™ provides powerful capabilities to bring your library's OPAC and virtually any/all other resources to any computer desktop in your library. Imagine, your public-use PC's are one click away from any of your databases, or loaded applications, or even OPAC. Imagine someone can type a Google-like query "food" and have dynamic map appear guiding them to the cafeteria in your facility. This is now a reality and L-Guide™ is the platform that makes it happen.
---
Enhance every PC in your building by allowing a simple, unified access to virtually any resource in your library, PLUS, an array of built-in features, such as quick email, wayfinding to anything in your building and much more.
To quickly learn about this unique system, take a look at a quick Slide Show (separate window)
The system comes with a client software that you can load on ALL of your library PCs. These could be "public use" computers or dedicated staff machines - anywhere and everywhere. The client software is always resident and is invoked by a simple glide over with the mouse. Once invoked, you can provide one-button access to any of your existing resources, regardless if they are on that same computer, or on the web plus access an array of additional capabilities. Of course, you control everything.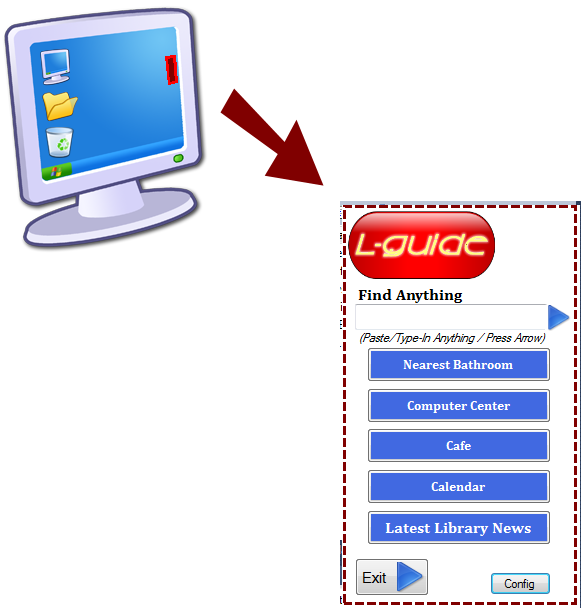 Unified Access to your Resources
Once evoked, the L-Guide Client™ allows you to define custom buttons or LAT-QuickButtons™ to provide access to any of your resources.
For example:
Have quick access with directions to common areas (exits or nearest bathroom, for example), or

Go to any site on the web such as your on-line calendar, online database or a job site, or

Run other applications, such as the PC reservation systems, Print Manager, Office Application, anything
You can define buttons to anything you wish


Buttons can access the web, run an application or provide directions anywhere in the building and more


You control everything, buttons, destinations, etc.,


Every computer can be defined differently


Take advantage of built-in marketing module to promote your library


Much More...

A unique web-based system designed to map and guide your patrons to any point in your library is built-in and included with L-Guide™. Its like a GPS for your facility, which provides detailed map directions to anywhere in your library... plus... a lot more!
Dynamic Navigation
Here are some examples that anyone can get an answer with a click of a button:
Where is the "Fiction" area? Type: "Fiction"
Where do I find book on Fungus? Type: "Fungus"
How do I get to the Reading Room? Type: "Reading"
Where are your bathrooms? Type: "Bathroom"
How do I find call number 133.234? Type: "133.234"
"I am doing taxes, where are the forms?" Type: "Taxes"
...and more

You control the "granularity" of how detailed your destination points should be. Full administrative control of the LAT-Map™ wayfinding engine is done through a web interface from any browser.
Deliver detailed directions FROM any point TO any point in your library.
With a simple, web-based administrative interface you can define floor maps, points and directions to virtually any point in your library, including the location to ANY item in your collection or even outside the building if you want. Simple, easy and powerful.

Run Marketing or Promotion Campaigns
Want to promote your latest activities, classes or efforts? Want to maybe allow local businesses to advertise (and provide library additional revenues) to your patrons in a controlled and timed manner?
Now you can, easily with L-Guide™ - simply define your marketing / promotional details via a secured administrative web panel and all of your material will be distributed to client systems. The messaging will appear in a separate window.

"It's a marketing machine in a bottle"
On-The-Fly Emailing
We have often been asked by our customers to provide some limited ability for patrons to quickly send emails. That is, let's say someone is researching a topic on one of the public-use machines, and sees an article they like. How can they email that to themselves without logging in (on a public PC) on to their account (assuming they have it and know it).
Now they can, simply click on "Quick Email" on the L-Guide™ Client and send. Easy, Simple and Quick.
(For the doom-sayers in the audience: We have built-in controls to make sure that this capability could not be used for any type of abuse or bulk e-mailing - thanks for asking :)
System Core Operation
The server system is completely web based and allows you to define your floorplan(s), the destination points (nodes) and the paths between them. Yo also provide details on the directions from point-to-point with various choices of defining each node. You then assign names or "aliases" to each of the nodes.
The system comes with a client software that you can load on all of your PCs. The client is always resident and is invoked by a simple glide over with the mouse. Once invoked, you can type anything (just like Google) and the system will generate DYNAMIC guidance for you or take advantage of the QuickButtons™ discussed above.
"This is a truly unique system"
Costs
Contact LAT to get specifics, but the system is designed to be implemented in all types of libraries, large and small. Although every library is different, the cost of the system with all of the capabilities and licensed for ALL OF YOUR COMPUTERS.
Risk Free, Extremely Affordable
Yearly Subscription
Cancel Anytime

SITE LICENSE ALLOWS ANY NUMBER OF COMPUTERS TO USE THIS SYSTEM - NO LIMITS
There is so much more to say about L-Guide™ - please contact us to get a live webinar to experience the true uniqueness of the system.

---
---
---
---