LAT-Opac™ - Revolutionize your OPAC station!
LAT-OPAC™ revolutionizes your boring, mostly idle, space consuming OPAC station of the olden days. Sure, you need to provide collection searching capabilities provided by traditional OPAC's, but considering that they are mostly idle anyway, why not provide more, a lot more? LAT-OPAC™ is both a hardware and software package that totally changes your OPAC paradigm. Your LAT-OPAC™ can now be embedded in end-panels or stand-alone kiosks, and can now be empowered to allow your patrons access to multitude of resources, in addition to just OPAC capability.
---
LAT-OPAC™ Hardware
| | | | |
| --- | --- | --- | --- |
| | | | |
| LAT-OPAC™ configured in a stand-alone kiosk mode. Many more kiosk options are available. | LAT-OPAC™ built into the shelving end-panels provides on-the-spot patron access. Small hardware footprint of the LAT-Opac™ design make this capability happen with virtually any end-panel. | A special touch-screen, fully encapsulated display prevents any external tempering with controls while providing less than 1" protrusion. | A fully loaded CPU is less than a paper-back book in size, yet provides full functionality as well as wired and/or wireless network connectivity. |
LAT-OPAC™
can take a variety of physical forms. We utilize a custom-made, fully encapsulated touch-screen display to provide a trouble-free, patron-protected on-screen experience. All of the controls and buttons are fully protected from external (patron) access and tempering with an entire screen protruding less than an 1" from the mounting surface! The
LAT-OPAC™
powerful CPU is a less than a paper-back book in size, and allows us to mount
LAT-OPAC™
easily at the end-panels or shelves. In addition to its small size, our CPU's can be connected to your network in either wired or wireless modes.
LAT-OPAC™ Software
Although the hardware of LAT-OPAC™ is impressive, it is the unique and powerful software of the LAT-OPAC™ system that makes it truly special. The LAT-OPAC™ incorporates most of the L-Guide™ system (wayfinding is an optional add-on) at its core, allowing the patrons unprecedented access to virtually ALL of your resources from the same station. In addition, LAT-OPAC™ can also incorporate the optional infoVue™ digital signage platform, to allow LAT-OPAC™ to be your digital marketing sign during idle modes.
Much like your smartphone, LAT-OPAC™ provides an on the screen keyboard whenever needed to provide a quick, simple and very effective keyboard-less interface to any of the resources that you decide to offer. So at any time, a patron can be using your OPAC, and then quickly switch to your calendar and then to a print-manager application. All done, easy and seemlessly with the built-in L-Guide™ system.

(Refer to the L-Guide™ system page for detailed information)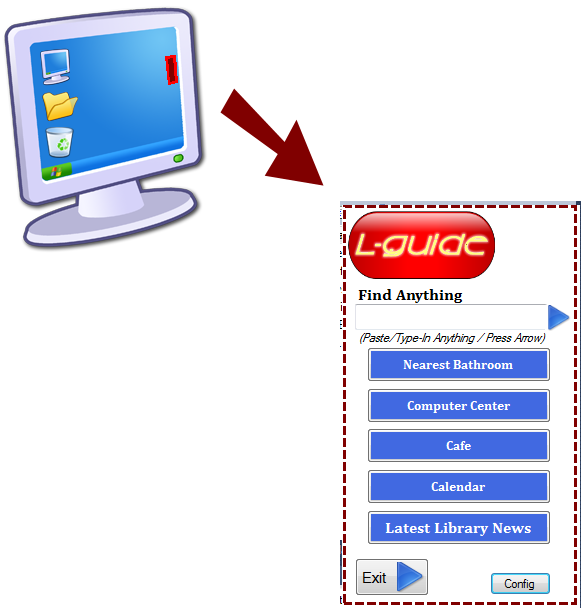 Unified Access to your Resources
Once evoked, the LAT-OPAC™ allows you to define custom buttons or LAT-QuickButtons™ to provide access to any of your resources in a simple, easy to use menu bar.
(Refer to the L-Guide™ system page for detailed information)
There is so much more to say about LAT-Opac™ - please contact us to get a live webinar to experience the true uniqueness of the system.

---
---
---
---
---