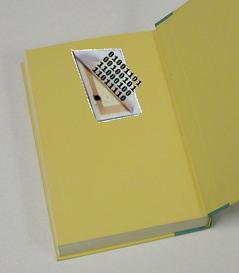 LAT-RFID™ - Its the PHILOSOPHY, stupid.
LAT looks at RFID technology not as the answer to all of the security and circulation problems, as most other vendors do, but rather as a "tool" that can be effective in some (not all) situations. RFID doesn't stop theft, it doesn't improve processing and it doesn't necessarily save any money, but it can be very effective in some "return-path" operations of the library. As a result, LAT doesn't "push" or insist on RFID as the requirement for any of its products, but rather allows any of its products to upgrade to LAT-RFID™ level at any time, once YOU are ready or feel you need it.
---
LAT-RFID™ - Ready When You Are
LAT is a provider of customer solutions, not of commodity equipment. LAT implements technology not for technology's sake, but to deliver real solutions to satisfy our customer's real needs. That is why...
We don't force anyone to get RFID unless they feel they truly can benefit from it. We then upgrade our equipment to RFID at that time.
We do not force libraries to use us as the sole source of RFID equipment, as many do, rather we encourage libraries to find the best value, especially in tags
We provide full LAT-Assurance that our equipment will work with any ISO compliant tags / gates as long as they are not encrypted or made proprietary
Once upgraded to LAT-RFID™, we build-in an LAT-RFID™ Tag Conversion Station for staff, free of charge
LAT-RFID™ - Flexibility
When and if you decide to upgrade to RFID technology, LAT can be your primary vendor as a complete and comprehensive partner for this implementation, providing tags, readers, conversion stations, extra staff, security gates, consulting services and more. But...we are also very happy to provide you parts and pieces of this often significant integration effort as our products are fully ISO compliant and will work with any other ISO compliant system / vendor that you may choose, or may already have.
LAT-RFID™ - Return On Investment Consultation / No "BS" Approach
Being a library industry automation leader for over a decade, it is very disheartening for us to see how many vendors manipulate the reality and promote RFID as the panacea of all of the problems that libraries face. Often, they use scare tactics, false claims, highly orchestrated demos or simply high dollar politics to drive these often multi-million dollar RFID implementations that have no real Return On Investment (ROI) goals. There are some real benefits to RFID, but there are also some real faults and problems that must be understood. That is why...
LAT will spend time with you to educate you on this technology; both the good and the bad
LAT will provide you RFID "starter packs" to evaluate how it works, how it can best be used and do limited field-trial runs
LAT will help you develop a solid ROI plan that will define clear benefits that you should expect post RFID implementation
LAT is the ONLY vendor that has developed an LAT-Datashield™ RFID privacy product
LAT is constantly participating in RFID forums, symposiums and conferences, and has been quoted in the RFID Journal Magazine.
If you are contemplating the move to RFID or have already started RFID implementation, you owe it to yourself and your library to talk to LAT!
There is so much more to say about LAT-RFID™, as well as RFID in general. Please contact us to get the conversation started.
---
---
---
---
---