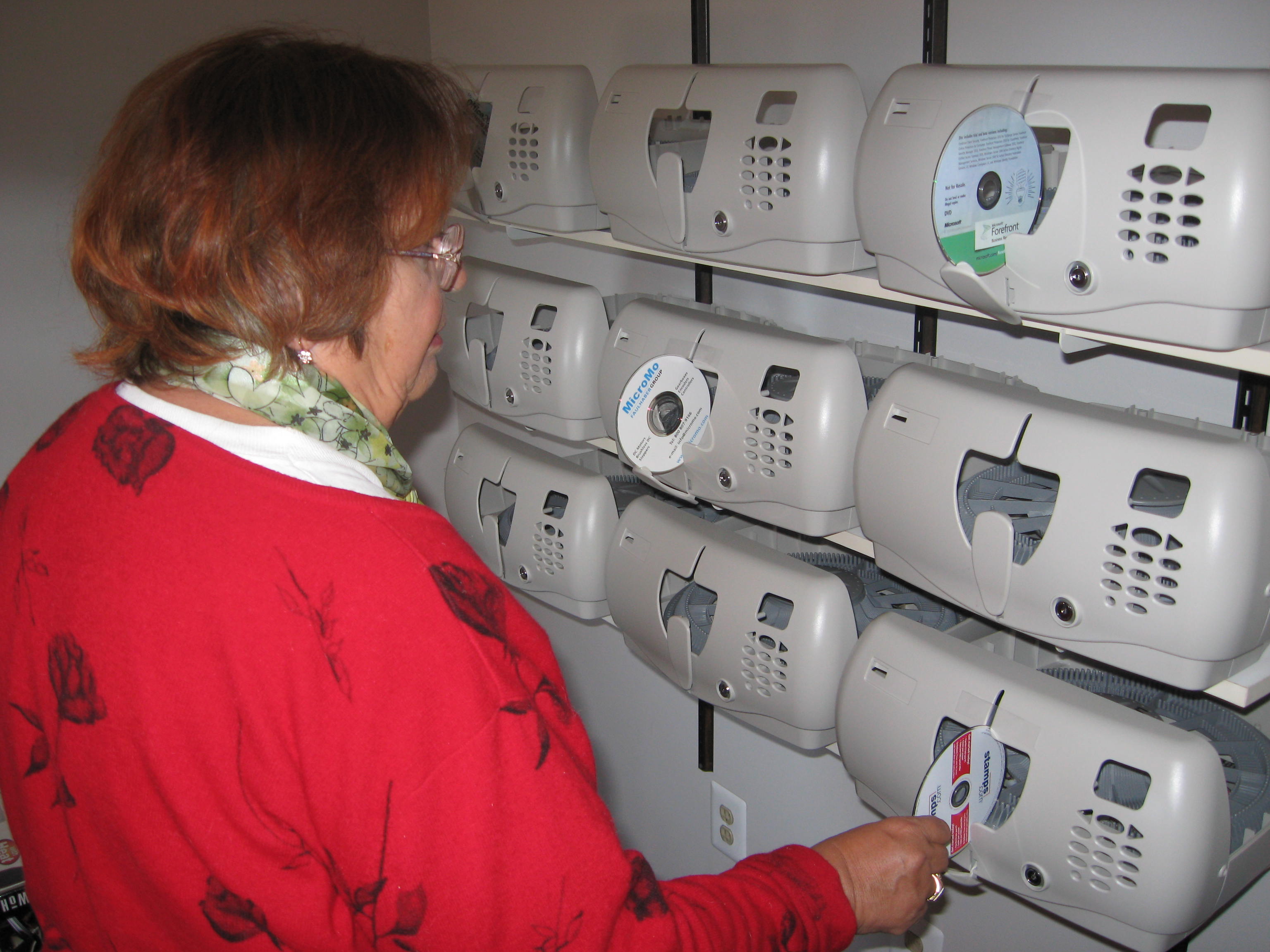 LAT-Stena™ - Media Dispensing for your STAFF
LAT-Stena™ is a unique system designed specifically for library STAFF to quickly dispense as well as securely and compactly store huge volumes of media behind the circ desk. LAT-Stena™ works with your existing circ-desk computers and scanners to drive system cost dramatically low. Simply click on a single button and have LAT-Stena™ deliver any CD/DVD/BluRay from thousands stored in LAT-Stena™ to you in less than a few seconds. Multiple STAFF can use the system simultaneously. Doesn't require expensive SIP protocol to work. Works with all ILS providers.
---
Facilitate Fast and Accurate Behind-The Circ-Desk Dispensing of Media by Staff
LAT-Stena™ is a unique product that allows you to store virtually any number of media disks behind the circ-desk and have nearly instant access to any one of them. To minimize costs, LAT-Stena™ works on your existing circulation desk computers and uses your existing circulation desk printers and scanners. The LAT-Stena™ software allows multiple access by any staff, doesn't require SIP license and provides a multitude of advanced functions, such as inventory, loading and unloading.
LAT-Stena™ is a collection of POD devices that are used to store media.
POD - A "pod" is a stand-alone device, specifically made for LAT with sensors, hardened mechanics and others design enhancements to provide a device that will be capable of withstanding harsh, high-volume library environments.

PODs can be added anytime to "grow" LAT-Stena™ capacity indefinitely.

Reduce Staff Burden
With a simple click, any disk is retrieved in seconds. LAT-Stena™ keeps track of multi-volume disk sets as well. Everything is fully automated. As a result, libraries that had multiple staff trying to accommodate the queue of patrons getting disks, can now provide same service with just a single person. Many libraries are now experiencing amazing results and incredible efficiencies with LAT-Stena™..
LAT-Stena™ is not restricted by any physical constraints. Each POD can be independently located as dictated by your space requirements. Any number of PODs can be added to grow your capacity virtually unlimited!
How it works
| | | | | | | |
| --- | --- | --- | --- | --- | --- | --- |
| 1. Patron brings various items to the circulation desk to checkout, which may include empty media cases or movies they would like. | | 2. Staff checks out the "regular" items. When media item is processed simply click on LAT-Stena™ icon on the desktop to retrieve the disk. | | 3. LAT-Stena™ immediately goes to work retrieving the item from its collection. Once item is ready to be picked up, the POD unit that houses it lights up and the LAT-Stena™ screen is updated. | | 4. Staff grabs the item and gives it to patron. The entire cycle is only a few seconds long. |
All of the transactions performed at the LAT-Stena™ can easily be reported in a variety of statistical reports via LAT-Central™. LAT-Central™ is our Enterprise Management Software which allows the library unprecedented capability of controlling, changing and reporting.

---
---
---
---