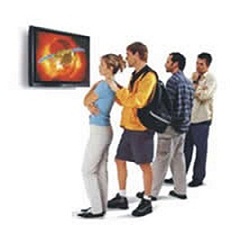 infoVUE™ - Unique Digital Signage Platform
infoVUE™ is an unique, effective and highly affordable Digital Signage Platform that allows unprecedented flexibility. It is inexpensive, easy to setup, can run on a multitude of devices, is totally web based and houses powerful capabilities to create an effective message.
infoVUE™ is a web-based platform that allows you to effectively define your messaging in a variety of ways, and then target that message to any number of devices or screens.
---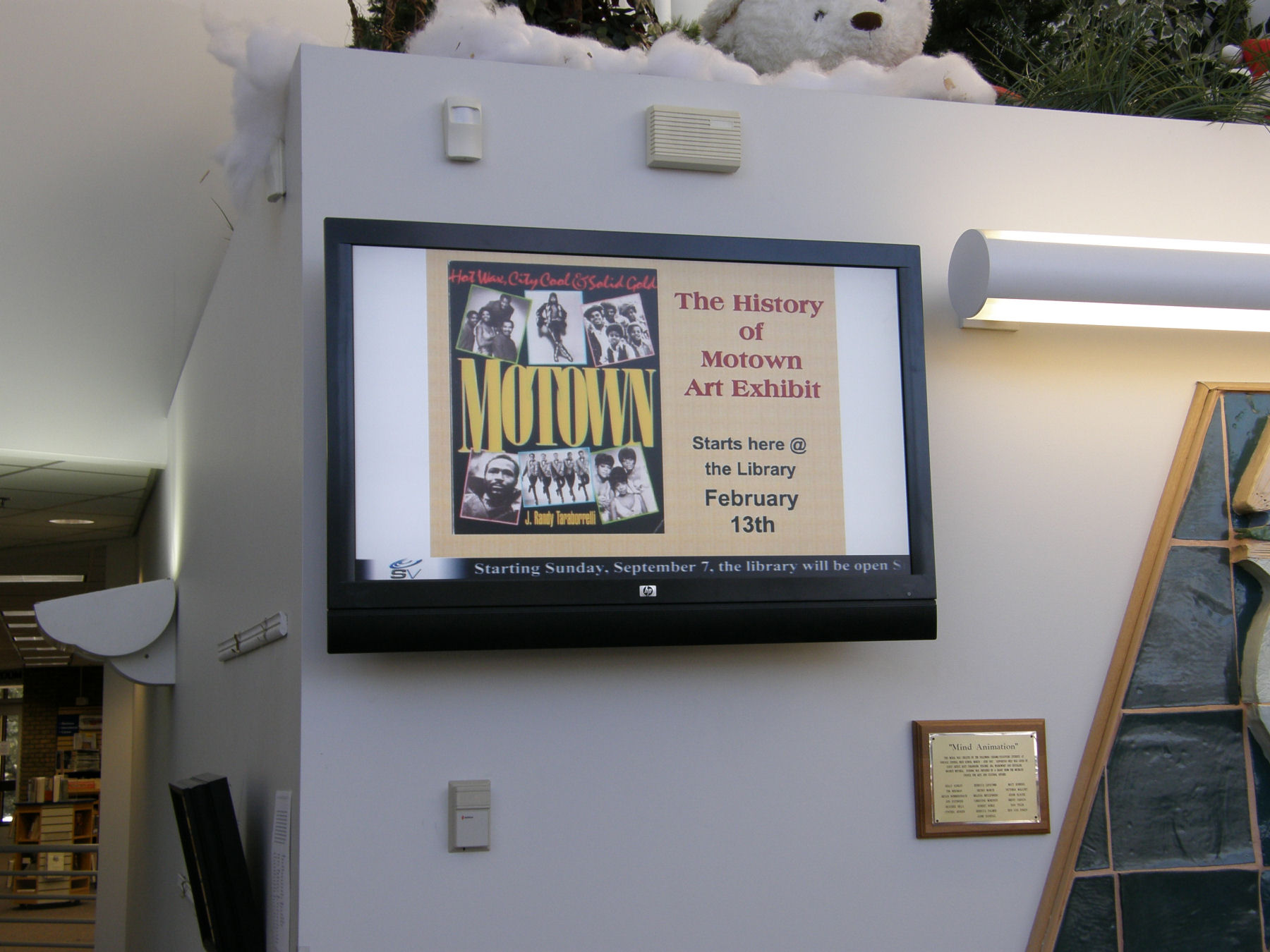 infoVUE™ is a web-based platform that allows you to put together powerful, exciting and elaborate messaging to promote and/or market your library, events or collection. There are no limits of how your messaging can be expressed, anything you have in mind to communicate, you can achieve through infoVUE™.
Delivering your message is as simple as A, B, C. Here are the main steps: (A) Create, (B) Layout, (C) Schedule and Deploy.
Create
Use any content at your disposal to design the message that you want to deliver. Supporting virtually all graphical formats (JPG, GIF, BMP, PSP ...etc., ) as well as live movie formats (WMF, SWF, FLV ...etc., ) as well as live RSS feeds and more - nothing can stop your creative process. You can even incorporate LIVE WEB FEEDS to display up to the minute live views of any website. Want to include a running ticker of news events, live video ... anything. Your entire creation process if fully and securely managed from anywhere in the world via any browser, simply login and create.
Layout
Not only can you create the message, but you can also control how you want it to be viewed on the screen for your audience. Is this a message that deserves a full screen display, or is this something that you can incorporate into a "news block" while featuring your library? These kinds of design decisions are fully made and controlled by you through layouts. Vary it based on message, make it standard throughout the library - whatever - you have full control.
Schedule & Deploy
Now that you have your message created and laid out, now lets schedule ("when") and deploy it ("where"). Just as before, through any web browser, access powerful scheduling capabilities to define when and how often to show the message. Show "Author Reading Hour" during the afternoon when the moms are there, and then show "See Our Latest Video Games" on Saturdays when the kids are there. You control when and how - You are in the driving seat.
Once you define the "when", you then define where you want this message to appear. You may have 1, 2 or 20 various infoVUE™ enabled displays. One could be at the entrance, the other in the teen area, and the third by the circ-desk. Each display can serve a different purpose, have a different message and target a different visitor demographic. Once again, you have complete control and targeting.
...In Summary
Fully web based - control from any device, including your smartphone or pad
Complete control over the creation, layout, scheduling and deployment of messages

Fully network status visibility. Know when the message is being served, when displays are functioning and if there are any faults
Ability to display infoVUE™ messages on variety of devices, including large screens, moveable displays, even public-use computers.
Available Target Devices
Here are some possible devices that can house your infoVue™ messages as supplied by LAT:
| | | |
| --- | --- | --- |
| | | |
| Complete hardware / software for large screen displays, or any part there off. | Moveable displays design to provide a level of mobility to your messaging. Move it to where the "action" is. | Use your existing infrastructure to propagate your marketing message. Use existing "public-use" PC's or existing OPAC stations to display your infoVue™ messaging during idle times. |
.Contact LAT to get specifics. infoVue™ is designed with flexibility in mind. LAT will work with you to find the best solution for your marketing / messaging needs taking advantage of your existing resources and capabilities.
Risk Free, Extremely Affordable
Yearly Subscription
Cancel Anytime

There is so much more to say about infoVue™ - please contact us to get a live webinar to experience the true uniqueness of the system.

---
---
---
---